Filter by Category
Our Classes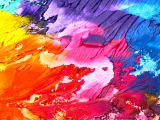 Graphic Design for Non-Designers
with Amy Dryden

May 3, 2021 at 6 pm

, runs for 3 weeks
Learn how the principles of graphic design and the foundations of advertising can be combined with free design tools to improve the quality and effectiveness of everything you create!
Day 1: Foundations - 7 hot tips to change your designs from good to great, plus a guide to using free and low-cost software to elevate your designs.
Day 2: Newsletters - Sending e-newsletters? Move beyond basic templates with custom graphics you create yourself!
Day 3: Words Matter - How to craft a great message and interpret it into graphics you can use for print, email, and social media.
Will run
Keeping Your Clients Safe, Virtual Tour Guide Training
with Fran Thomas

Jun 9, 2021 at 1 pm

, runs for 1 week
This course will take place virtually via Zoom. For the in-person course at the CCC Page Campus, click here.
Participants will learn about:
Emergency preparedness on the Colorado Plateau
Crafting a plan and making adjustments for participants
Guiding safely during COVID-19